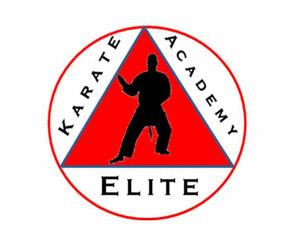 Why we are the Elite
Mission Statement
Our goal is to be recognised as the leading martial arts academy teaching core martial arts values and fighting techniques. With professional sincere instruction we aim to become guiding lights in improving our student's lives and the community around us. Guiding a large dedicated group of students from ages 5 to 90 on their journey to black belt and beyond, in a friendly fun style.
Benefits of Training
Elite Karate Academy teaches traditional Wado Ryu Karate-Do (The Way of Harmony). We know correct training leads to character development and self improvement and is more than simply fighting. Learning the correct mental attitude and fighting spirit of the Samurai improves concentration levels, mind control and stress relief leading to a more positive attitude towards life.
Through their knowledge of karate our students learn Self-Defence, Self-Control, Self-Discipline, and Self-Confidence, leading to improvements in their Self-Esteem and develop the Physical, Mental & Spiritual Strength renowned of the martial arts.
Regardless of age or fitness levels, a student will benefit physically from training. Improvements in flexibility, strength, stamina and aerobic fitness are just some of the benefits to be gained.
About Us
Elite Karate Academy in Clondalkin celebrated their 4th birthday by opening a brand new full time Dojo (Training Hall) on the 13th of September 2014. Supported by members, families and friends, Elite Karate Academy hosted a fun day with both a weapons and unarmed demonstration by their "Junior Black Belt Club", a kickathon by the whole club, and their Chief Instructor Sensei Gareth FitzGerald did the ice bucket challenge which raised money for Crumlin Children's Hospital. The event was finished with Sumo Suits for both the children and their parents.
Opened in 2010 after over 20 years teaching in Clondalkin by Sensei Gareth FitzGerald who says, "Elite Karate Academy aims to become guiding lights in improving their student's lives and the community around us, we know training with us leads to character development and self improvement and is much more than simply fighting." "This is the realisation of a 30 year journey and a lifelong dream", says Sensei Gareth, who's owner instructor of 30 years did the ribbon cutting on the day.
Elite Karate Academy offers a range of programs taught through their classes including a 'Character Education Program' which teaches 16 core martial arts values such as Courtesy, Honour, Humility, Leadership etc. They have an 'Anti Bullying Program' and 'Fighting Fat Program' starting in October and a 'Child Protection Program' after that, Elite Karate Academy offers more than kicks and punches.
Self Defense Courses
Our aim is to teach realistic simple self defence concepts and techniques, in a fun empowering manner. Using strikes, kicks, locks and takedowns, students acquire skills necessary to defend themselves against armed and unarmed attackers.

We aim to teach students to be aware of threats, the psychology required to survive an altercation, and the tactics used to avoid or escape conflict.
Simple techniques and concepts are taught, which once learnt, students are encouraged to adapt the concepts to any self defense situation. Small changes in behaviour, body language, and security precautions can reduce the risk of being or becoming a victim, without years of martial arts training.
Training is given in the following areas;
Simple Effective techniques

Armed Attack Survival

Tactical Training

Threat Management

Fight Psychology

Street Awareness
Our Full time purpose built Dojo is ideal for private group bookings, opened September 2014. Or we can come to your place of business.
If you wish to run a course for your business/group please get in touch...